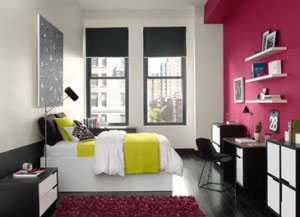 If you're looking for a project to get your creative juices flowing, adding an accent wall, or changing the color of a current accent wall may be just the right project for you.
Before choosing a color, remember that not all walls are meant to be accent walls. The wall that features a fireplace, bed, bookcase, or other prominent accessory is more likely to be successful than other arbitrary walls of the room.
Once you've decided on the wall, it's time to choose "the look". Here are a few of the many accent wall options.
Make It Bold: Adding a bright colored accent wall is like walking into a quiet room and yelling, "BOO!!" Most people are going to jump at first, and then love that you're fun and whimsical. Others will shy away from the peace and quiet that once was. If you're already using bright colors for your room's accessories, a bright accent wall will fit in beautifully.
Subtle Contrast: Perhaps you're not interested in such a loud wall, or the room you're painting isn't right for it. Using a deeper hue of your existing wall color on one strategic wall can break the monotony of a single-color space. Adding texture or a unique design rather than a different color will also create a subtle accent, which looks especially nice in bedrooms.
Color Flow: Using the same color in your room's accessories as you choose for the accent wall is a great way to tie your room together. And, if you want to create flow throughout multiple rooms, use accent-colored furnishings in adjacent rooms to establish seamless flow between spaces. Note the orange curtain in the room adjacent from the one with the orange accent wall.

分享内容: