DIAMOND VOGEL EXTERIOR COORDINATES COLLECTION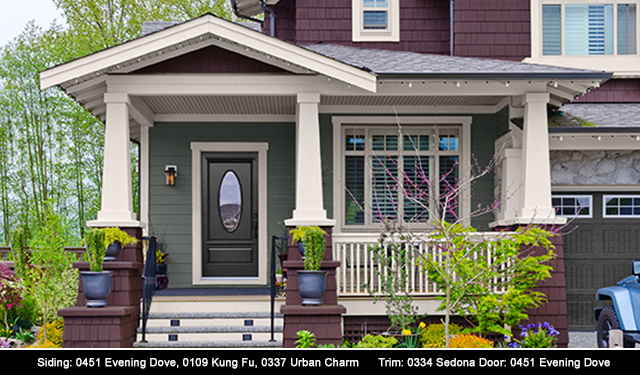 Note: On-screen and printer color representations may vary from actual paint colors.
Diamond Vogel's Exterior Coordinates Collection
offers modern and classic color combinations to help create a stunning first impression.
CONTEMPORARY COLLECTION
The color groupings from the Contemporary Collection provide eighteen proven exterior palettes for today's modern, monochromatic styling. With exterior colors trending to deeper tones, these color groupings offer great flexibility for siding, trim and accents.
HERITAGE COLLECTION
The color groupings from this collection offer sophisticated combinations for our treasured historic and older homes or those that desire a more complex color palette. This collection offers fifteen groupings carefully curated to bring out the beauty of these treasured properties. The Heritage Collection offer ideas for siding, trim and accents including the front door and shutters.

WHAT YOU NEED TO KNOW ABOUT ENERGIZING YOUR HOME'S EXTERIOR WITH COLOR
Consider features and details of the exterior that will not or cannot be painted. The color of your roof along with brick and rock details affect the overall look and need to be considered in color selection. You want to develop a final color palette that delivers a unified look with curb appeal.

When focusing on exterior colors for your home, we recommend going by the "70-25-5" rule:

Body color - 70%

Trim color (fascia, windows, overhangs) - 25%

Accent color (doors and/or shutters ) - 5%

Consider neighboring homes. You want yours to be compatible as well as distinctive.

Get inspired. Look at other houses you like, take pictures or study shelter magazines to get ideas.
DOOR AND SHUTTER
The Personal Touch – Front doors and shutters are the perfect place to use vivid, eye-catching color. With the current popularity of bold colored front doors and accent shutters, our Door & Shutterguide offers the current color trends for these popular architectural details. Adding color to doors and shutters adds unique and colorful personality to a home. These colors pair well as recommended accents to the Contemporary Collection groupings.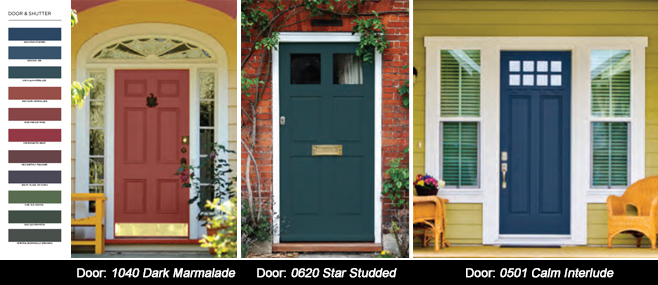 Note: On-screen and printer color representations may vary from actual paint colors.
FACTS TO CONSIDER WHEN SELECTING ACCENT COLORS
Keep your house's style in mind. A soft pastel door might look great on a mid-century ranch, but feel misplaced on a more traditional colonial. Likewise, the color you're smitten with might look fabulous next to sand-colored siding, but feel like too much on a house with a brick facade.
Consider your front door's features. If your door includes lots of glass, you may consider going with a more playful color than you would if your door was large and flat.
Keep your eyes open. While you're at it, consider surrounding shutters, molding, and other architectural features that are easy to paint.
Accent! While you might not opt to paint your entire house a deep teal, it could look stunning on a front door.
Remember that the exterior of a home is a package. Together, all the pieces fit together to create a welcoming and inviting atmosphere.
Click here for more ideas for making your front door sparkle.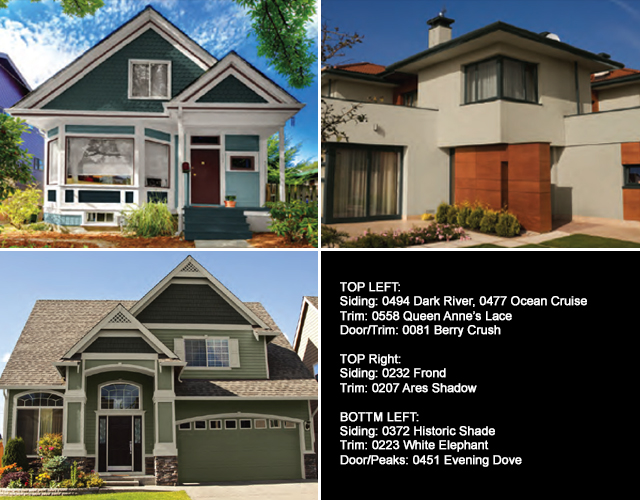 Note: On-screen and printer color representations may vary from actual paint colors.
PICKING THE PERFECT PAINT FOR YOUR HOME
Make it last. Pick a high-quality paint that weathers well. Diamond Vogel offers the right finish and sheen for any project, and all of our coatings are specifically tuned for the regions we serve.
Still stumped? Our professionals can recommend the proper coating for your particular situation. Plus, we'll offer helpful advice on preparation and application for a long-lasting, great looking paint job.
Envision Visualize colors with Diamond Vogel's

ENVISION Color Visualizer

. Test colors using our pre-loaded projects or upload your own photo. Our visualization tool gives you confidence in your color selection.

Try it out! Diamond Vogel offers Color Sampler, a quart-sized color sample to help test color at home before you buy. There is no better way to select an exterior color than to first test it beside your home's permanent features like stone or brick facades, siding or roofing, giving you confidence in your color decision.
Stop by your nearest Diamond Vogel Paint Center to pick-up your copy of Exterior Coordinates Collection and find the perfect color and coating for your painting project.

分享内容: